Major challenges facing the industry
By SOLUTRANS 2023
The commercial vehicle sector is undergoing rapid change, and must today address the intensification of its longstanding issues:
The ecological challenge

first of all, with a sector that is continuing its path to net zero and seeking to bring about the emergence of new sustainable solutions.

Challenges arising from new uses

next, primarily driven by changes in the expectations of end consumers. They are demanding more immediate service, adaptability and transparency, and such needs are shaking up entire logistics chains.

Economic challenges,

with insurance and financing offers that are changing to meet the new needs of businesses and their vehicle fleets.
Building on this observation, the FFC (the French Bodywork Federation) has decided to ring the changes at SOLUTRANS. At its 2023 show, a multitude of new features will be presented, consistently in the aim of reflecting the vitality of the sector and supporting the professionals of whom it is composed.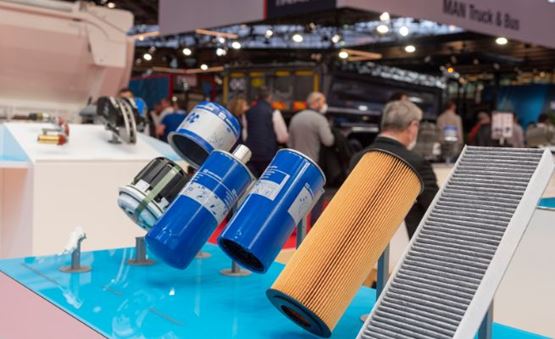 New features at SOLUTRANS 2023
One workshop, one energy to better understand and refine one's energy mix
Biofuels, gas, battery or fuel cell electric, retrofitting: alternative solutions to diesel are as numerous as they are hard to comprehend! To help professionals see things more clearly and choose the right energy mix depending on their activity, SOLUTRANS launches "One workshop, one energy".
Every day, visitors to SOLUTRANS 2023 will be able to discover three new energy solutions through four daily 35 minute session. Taking place in hall 3, this series of talks will be jointly presented by a specialist journalist and a representative of a company involved in research into solutions dedicated to new energy sources.
The road testing village to test drive vehicles in real life conditions
Since people don't buy vehicles simply from a catalogue, SOLUTRANS is stepping up its demonstrations at the show! For this 17th edition, no fewer than three test drive formats will be available at the event, to enable visitors to discover and try out new innovative solutions proposed by the manufacturers at the show.
In addition to the traditional circuit inside the exhibition grounds, SOLUTRANS will also lay on two additional test tracks (one 8-km course and an urban 6-km circuit), more appropriate for the testing of electric vehicles.
The banking, insurance and consulting area, to receive help with your project


In view of the density and complexity of new financing and insurance packages brought about by the green transition, professionals need more help and support than ever! To help them in their task, the 2023 edition of SOLUTRANS will bring together for the first time in the middle of Hall 6, professionals and organisations from finance (banks, manufacturers), insurance, leasing and consulting. This is the opportunity for participants to be assisted in their transition process by professionals in the field, and ask all the questions that arise in their everyday work: how to finance the purchase of new trucks and vans? What insurance to choose according to the needs of their vehicle fleet and business activity? What are the benefits of leasing? What formula should they choose?
And much more to discover…


In addition to the new features presented above, the 2023 edition of SOLUTRANS will also be presenting:
Make a beeline to Lyon Eurexpo, France, from 21 to 25 November 2023 for this new edition of SOLUTRANS!