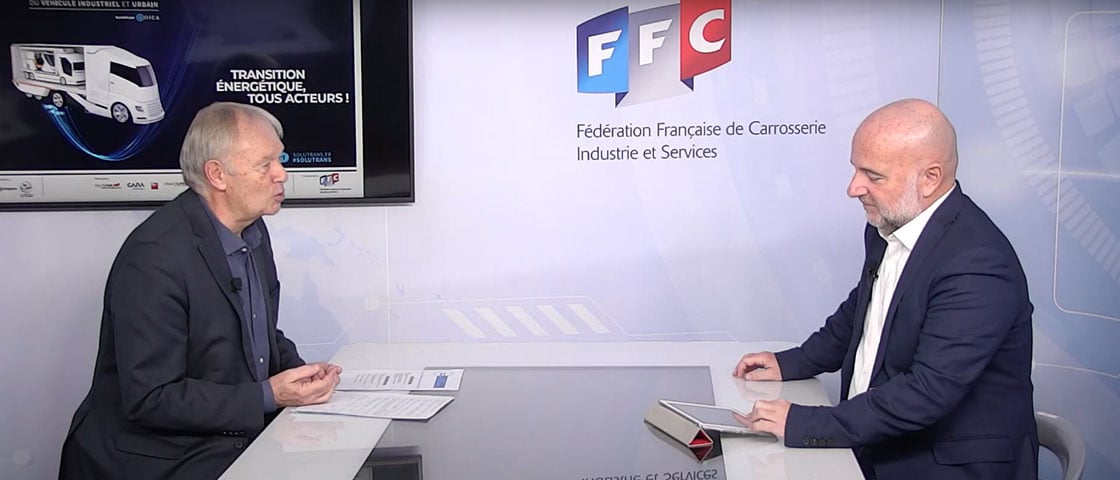 Patrick Cholton, chairman of FFC and SOLUTRANS, talks to Hervé Rébillon from TRM24.
With only a few weeks to go before the 2021 edition, SOLUTRANS is shaping up to be a great success. 95% of the exhibition space has already been sold. All the HGV manufacturers will be present. Patrick Cholton, chairman of the FFC and SOLUTRANS, gave this interview to TRM24. Despite the public health environment, he confirms the sector's enthusiasm for the event and also previews the main new features, including a new hall dedicated to new energies.

TRM24: With only a few weeks to go before SOLUTRANS 2021 and given the current public health circumstances, what is the state of mind of the commercial vehicle sector?

Patrick Cholton: We feel that the industry is very motivated this autumn, whether it be hauliers or heavy and light commercial vehicle body builders. A great many exhibitors have answered the call! Today, we have a 95% occupancy rate with an additional hall, which is exceptional. All the manufacturers will be present. And we expect to have a few pleasant surprises in the coming weeks. We also know that the visitors will be there. I can't say that COVID is behind us, but thanks to the health pass, the government is making it possible to welcome exhibitors and visitors in the best conditions. We are expecting to see the best ever edition of SOLUTRANS. So everything is looking very good.

TRM24: SOLUTRANS 2021 will be packed with content and special events. We understand one of the main new features is Hall 1?

Patrick Cholton: Hall 1 will present all the new energies and infrastructures that exist on the market. Connectivity will also be widely present in this space, enabling the entire sector to hear and see what is coming up in the next months and years. This is not a 5 or 10 year forecast, which is useless today. There are many owners of LCVs and HGVs who want to renew their fleet and know which energy to choose. Of course, it is not up to us as an exhibition organiser to say "take this or that energy": our role is to propose all the solutions. We asked the exhibitors to play at being Teacher in a way, by presenting their offerings. It's the right thing to do to tell them: be careful, if you decide on electric, it will be for urban use, if you want gas, it can be for urban and medium distance use, otherwise continue with the Euro 6 for long distances. TotalEnergies is our main sponsor this year. This demonstrates the interest that energy companies have in the exhibition and therefore in the sector.

TRM24: What other new developments are there at the 2021 show?

Patrick Cholton: There are many other new features at this year's event, and they are increasingly based on partnerships. This is the case with the French Tyre Trade Association (SPP). Until now, no exhibition has put so much emphasis on tyres. But tyres are revolutionary today. They help save energy and contribute to meeting the European Commission's targets. There will be several talks on tyres. Of course, there will also be talks on topical subjects in the sector with the participation of experts and the main players in the commercial vehicle industry. What with the energy transition, circular economy, digitalisation and connectivity (artificial intelligence, security), new regulations, employment and training, there is no shortage of topics.

TRM24: SOLUTRANS 2021 also offers a digital version mainly aimed at exhibitors. Can you tell us more?

Patrick Cholton: Exhibitors have a great opportunity in addition to the physical edition with SOLUTRANS DIGITAL SHOW. This is a way for them to reach their sales leads and clients all over the world. Our job over the next two months will be to contact those exhibitors who have not yet joined SDS and explain to them that they can improve their ROI for free. We mustn't forget that the crisis has merely accelerated this transformation, which now highlights the importance of digital tools. Depending on the needs, desires or messages to be conveyed, exhibitors can raise their visibility by increasing the size of their stand, adding live chat sessions with their teams, additional videos. SOLUTRANS exhibitors can thus design their digital stand at the same time as their physical space in the EUREXPO halls.

TRM24: SOLUTRANS continues to reward the sector's stakeholders, and apparently several awards will be presented in November?

Patrick Cholton: We will start on Tuesday evening with the I-nnovation Awards. The two new developments this year are a Digital award and a new venue for the ceremony. It will take place at the Groupama Stadium in a very dynamic environment. I think all the participants will be surprised. On Wednesday, the gala dinner will host the Industry Personality of the Year and International Truck of the Year, Van of the Year and the Pick-up Awards. With regard to the Industry Personality of the Year, exceptionally this year we will not be making an award. We will be presenting the awards from the 2020 edition that we made to the three transport federations. I would like 2020-2021 for Industry Personality to be given over to hauliers. These are the two years that have really left their mark. I really want to pay tribute to them during this gala dinner.

TRM24: How is the sector doing at the moment?

Patrick Cholton: Business is very strong today. We are back to 2019 levels or better. Delivery times remain long, with delivery dates in February or March 2022, sometimes with major stock-outs in electronics and steel, where prices have soared. At the same time, there is high demand for the renewal of transport fleets. French and European regulations have made this necessary. And the hauliers have not needed to borrow. Most of them didn't take out a PGE (Government-backed loan) and the fuel cost heading has been lower because the price of diesel has fallen significantly in recent months. They have therefore been able to build up their cash flow. And now, at SOLUTRANS, with the new ranges from manufacturers, they will be spoilt for choice when it comes to renewing their vehicle fleet. This edition is a godsend for the industry.