In an increasingly challenged commercial vehicle environment, the emergence of new solutions has become a necessity. To make its contribution, SOLUTRANS has for many editions organised its I-nnovation Awards.
PROMOTING THE EMERGENCE OF NEW INNOVATIVE SOLUTIONS
Shining a light on innovative projects whose goal is to drive change in the sector is the purpose of the I-nnovation Awards. As a true reflection of the industry's dynamism and vitality, the competition is an opportunity for SOLUTRANS exhibitors, whether they are bodybuilders, equipment suppliers or providers of digital solutions, to present their latest haulage and urban transport solutions.
Make a date for 21 November 2023 at the GROUPAMA STADIUM
to discover the winners of the 2023 edition at an evening bringing together the sector's leading figures.
*The I-nnovation Awards competition is only open to SOLUTRANS exhibitors.

SOLUTRANS 2021: I-nnovation Awards evening
A look back at the event in pictures.
AWARDS THAT EVOLVE IN STEP WITH INDUSTRY
As a mirror of the new challenges that impact the light and heavy commercial vehicle industry, the I-nnovation Awards adapt to the times and invent new categories, always with the goal of shining a light on the solutions that answer the challenges of the modern world. In addition to the historical "Bodybuilders" and "Equipment Suppliers" categories, SOLUTRANS has introduced new awards distinguishing innovations in connected solutions (Digital Awards) but also environmental considerations (the special Joseph Libner award). In 2023, cargo bikes will receive centre stage treatment, with a new category dedicated to them.
AN AWARD FOR PROFESSIONALS, BY PROFESSIONALS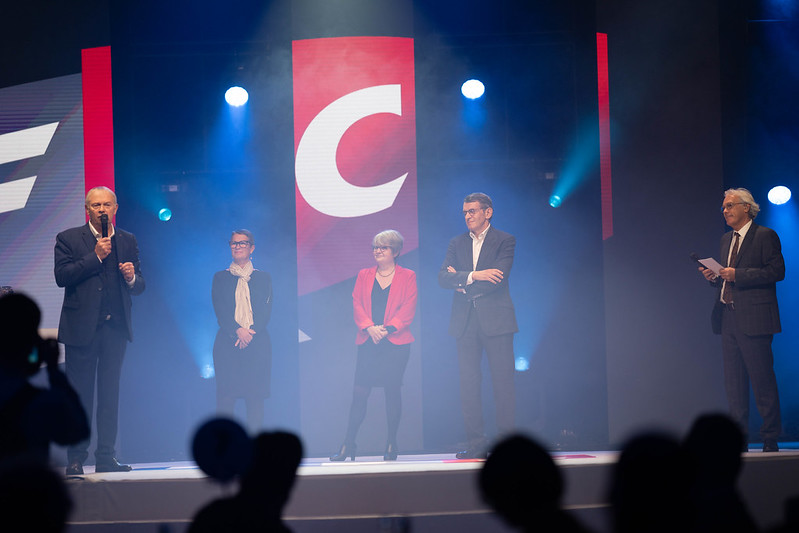 Since it is the people who make up the industry who are the most capable of judging the disruptive potential of each project, SOLUTRANS and the FFC call on the expertise of an exceptional jury each year, made up of acknowledged professionals and journalists from the sector. Together, they discover, analyse and elect the most promising projects so as to showcase those that will help the industry transform itself with positive impact in the long term.
FROM A 2021 WINNER
"
The I-nnovation Awards offer an opportunity to highlight the achievements made by companies who lead the way in the heavy commercial vehicle area. The awards we received this year hold great value since they underlined our expertise in the two areas which make up the gene code of the brand: the ergonomics and user safety of our equipment on the one hand, and energy efficiency on the other.
"
LAMBERET SAS
Digital Award 2021